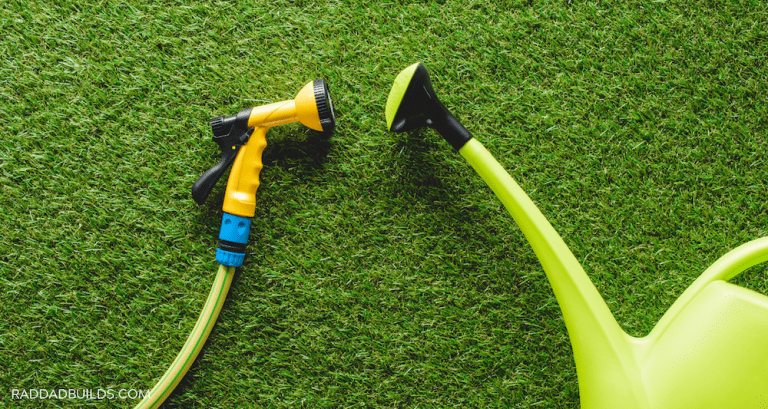 How To Choose A Garden Hose – We're often asked "which garden hose is the best?", so we have decided to write this guide detailing the necessary steps that you should take in order to choose one that suits your task.
The answer to this question is not that simple unfortunately, there isn't a one size fits all solution that will be right for everyone. That's because everyone has unique demands and requirements.
Finding the garden hose that is right for you will depend on things like what your budget is, how much size you have to use it in, and where it will be stored. At the end of the day, these are the most important things to consider when choosing a garden hose.
Now that you have an idea of the factors you need to consider before buying a garden hose, we will go into greater detail of each step in the process below.
And you should check out my video on how I replaced a drippy hose here, too!
#1 Length
The length of a garden hose varies from 25 to 100 foot long sometimes, although it's tempting to buy the longest one available you should not do it. Not only does it cost more, but it requires much more storage space, and it's difficult to move about.
The right option is to choose the one that's just the right length for your specific needs. If you get a hose that's too long, you will find that the water pressure is actually reduced as well.
To figure out the length of hose you need, measure the distance from the spigot and find one which is just slightly longer than the measurement, just to be sure. On a deck, or for outside general use a 25 ft hose is usually ample.
DXYSS Lightweight Expandable Garden Hose Expandable Garden Hose Pipe Flexible Expanding Magic Hose with Multi Spray Watering Gun/Storage Bag/Hose Hanger Fashion Brass Fittings
The most serious quality problem for former expandable hose is joint leaking and water pipe burst. garden hose use a super high tenacity fiber, which can efficiently protect latex pipe.can expand up to 3 times of its original length.
9 PATTERN HOSE NOZZLE:MIST,ANGLE,SOAKER,JET,CONE,SHOWER,FLAT,EFUL,CENTER,Just turn the spray nozzle to adjust the watering pattern.
The use of solid fittings makes the garden water hose free from leaks and cracks that often come with plastic fittings. Built-in shut-off brass valve saves you endless trips to the faucet.
Compatibility Hose Connector:This garden hose combination is equipped with a special connector. Make hoses more widely used: Cleaning machine,gardens, workshops, lawns, car washes, RVs, swimming pools, boats, etc.
PROFESSIONAL SERVICE : Our garden hose expandable is manufactured with strict, high quality, and high standards. If you're not 100% satisfied with the our garden hose, please no hesitate to get in touch with us, we will help you within 12 hours. Click "Add to Cart" to get your garden hose!
The problem you will encounter if you buy a garden hose that's too short is that it will stretch and potentially become damaged. If you need a length greater than 50 feet, you should consider buying several smaller hoses and connecting them. This will give a more versatile solution.
#2 Width
The diameter of the hose is the next thing that you need to consider when you're out there shopping. Usually, the diameter is 3/4 of an inch to half an inch, but there are a variety of other sizes available.
The diameter is of the inside of the hose, not the outside, so keep that in mind at all times. A larger diameter hose will allow you to have water that flows more freely.
The hose that is 5/8 of an inch is also very common, as it's a good balance between water pressure and not being to heavy. If hose weight becomes too much, you may have trouble lugging it around. If this is the case for you be sure to go for the half-inch option.
These tend to be lighter due to the smaller diameter causing them to carry less water. If you opt for the half-inch garden hose, ideally you shouldn't get one that is any longer than 50 feet, also you shouldn't use them for washing your car.
#3 Material
Garden hoses are something that comes with a ton of different options as far the material is concerned. The most common types of materials used are rubber, plastic and vinyl.
The vinyl hose is usually reinforced with a radial cord, and it's the least expensive material on this list. Unfortunately, it's also the least sturdy option. They're quite prone to splitting and puncturing which results in nasty leaks! The only reason you should buy a basic hose like this is if you're on a tight budget.
Garden Hoses, Flexible Garden Hose Garden Water Hose with Spray Gun Set Expandable High Pressure Car Wash Pipe Magic Hose Irrigation Garden Hose (Color : Green Dot Hose Set, Diameter : 1/2'')
Widely Use Water Hose: Perfect for car, floor, yard, house washing, garden watering, lawn, pet cleaning, having fun or business use. Beside, you will get a water hose hanger to hold the water pipe. If you have any issue within use, feel free to contact us
Garden Hose: Using the extra-flexible material, high strength tough woven casing, it can efficiently protect latex pipe. The advanced design will never kink, tangle or twist. Help you get rid of all the obsession when using an polyester fabric or plastic pipe
DURABLE FLEXIBLE HOSES - We enhance the durability of the flexible hoses so that the hoses do not form kinks while in storage and deteriorate in quality. You will have an easy time using or storing this expandable hose.
Green Friendly Home WATER HOSE - We know you will love this hose - owning it will be a pleasant experience. They are as strong as your exercise resistance bands, but not the strength of car tire rubber tubes. We cannot promise that they will never leak or pop.
GARDEN HOSE - They are the strongest expandable garden hoses you can find today. A reliable water hose that makes you feel relaxed when watering at home.
Rubber is the best material to choose for your garden hose as it's the most durable. The downside of this is that it's also the most expensive. A good rubber garden hose will set you back a significant sum of money.
All in all, it's worth it though as they are much less likely to kink, and split when exposed to the sun. One thing to keep in mind however is that rubber hoses as slightly heavier.
Another great option is some kind of composite material, which combines rubber and vinyl. These are resistant to splitting and can take a lot of water pressure before they rupture. You should be careful when using rubber and vinyl hoses as they may have some chemicals which cause the water to become unsafe to drink.
Read Also: