Best Bench Grinder Reviews – Save Money Buy Smart
What is the best bench grinder? If you've decided to buy a bench grinder, you've made a great choice. They are an extremely useful machine, however, there are a few things you should keep in mind before you buy one.
We have created a detailed guide designed to help you choose the best bench grinder for the money.
Whether you're a serious DIY expert or you're just an average guy wanting to sharpen your lawnmower, blades a bench grinder will be a great addition to your workshop!
This tool is essentially two spindles located on either side of a motor in the center. Although it's a basic looking tool its uses really are numerous, so read through our bench grinder reviews to find out all you need to know to make a purchasing decision.
This site uses ads and affiliate content, earning commission on qualifying sales. Disclosure.
Top Bench Grinders for your Garage or Workshop
In the following paragraphs, we take a look at our top 6 best bench grinders for your garage or workshop. The reviews below are designed to make your decision of which one to buy easier.
If you're still unsure after reading the below reviews, then check out the buyer's guide at the bottom.
#1 WEN 4276 Bench Grinder
This offering from WEN is made in both 6″ and 8″ varieties for those who want a slightly bigger wheel.
It is extremely well priced for its quality and durability. Its motor has a modest 2.1-Amps and does 3450 RPM (under no load). It is also fairly lightweight weighing only around 16lbs.
This model also features a nice adjustable work light for ensuring your precision while working. Like the previous model above it has the feature of dual wheels, one is 36-grit and the other 60-grit for lighter material removal. Overall this option from WEN is a pretty solid choice, it is very powerful for its price, and still compact enough to move about easily.
One negative of the 6-inch model is that it may restrict your ability on the sizes of materials/tools you want to sharpen etc, fortunately, there is also the 8″ option.
#2 DEWALT DW758 Bench Grinder
The DEWALT DW758 is a heavy-duty beast that is one of the top choices if you're after a fantastic and powerful machine. It has many positive reviews in the power-tools community, and it is known to be highly durable. It features overload protection to extend the motor life.
It has a 3/4HP motor capable of industrial-grade grinding jobs. The base and motor housing both are cast iron to prolong the life of this beast. The precision-made tool rests allow for extremely accurate positioning of work. All these great features and it won't break the bank, in fact, this tool is very reasonably priced!
This offering from DEWALT shouldn't be overlooked for the brilliant value for money, but might be a bit heavy duty for the average user.
#3 Metabo Bench Grinder
The Metabo bench grinder is our top choice for many good reasons. For a start, it is a heavy duty machine that can easily tackle any work you throw at it. This 8 inch bench grinder weighs in at about 35.9 pounds, so it isn't light by any stretch of the imagination, however, due to its compact size it is still relatively portable.
One good thing about the grinder weighing more is that the heavier models tend to be better at reducing unwanted vibrations. That being said, it's still best to mount this machine to the floor with bolts, for safety if nothing else.
The electrically powered motor has an impressive 240 V, 600 Watts capability, powering the wheel up to 3,570 RPM. Because of the fact that it spins very quickly, and is quite a heavyweight, some note that it does take a while to slow down upon switching it off.
Overall, the Metabo DS 200 is a top of the line product that is perfect if you want to pay a premium price for a premium product. It may be overkill for the beginners out there, but for most, this bench grinder is certainly worth considering.
#4 Sunex 5002A Bench Grinder
One of the best bench grinders available for those who are on a tight budget. The Sunsex 5002A Bench grinder is more affordable than most other options in this list, however, it does not skimp on performance or features. It comes with a bright flexible work light which is fantastic for illuminating your workspace.
This grinder comes with two wheels of different coarseness, one at 36 grit and the other at 60. This is a very nice feature to have because it allows you to grind different materials that require more grit, while also grinding materials that require a smaller grit.
It also means that you can choose to remove material from whatever your working on in a slower controlled manner, or in a faster manner.
Both of the grinding wheels are protected by guards and adjustable eye shields to ensure safety from sparks. This machine is very well built, and is constructed from cast iron (a very durable material).
The motor is also good for the price this grinder comes at, it is a respectable 3/4 Horsepower, with the ability to go up to 3450 RPM. Overall, those on a budget should certainly consider this in their shortlist.
#5 SKIL 3380-01 Bench Grinder
The SKIL 3380 is a fantastic 6 inch entry-level machine that will serve you well without costing you an arm and a leg. It features a well-powered 2.1 Amp Motor with 3,450 RPM. It has both a medium and a coarse wheel to suit working with a variety of different materials.
As it is generally a versatile machine, this is one of the most popular options out there. It's also very easy to detach and change accessories on this model if you want to.
Both wheels feature built-in LED work lights for maximum visibility which is always a nice touch. The feet are rubber which means it does a good job at staying firmly in place, it can also mount easily to your workbench and is very rigid due to its cast-iron base.
Whether for the home workshop or garage this is a versatile tool that could be perfect for you. From sharpening drill bits to polishing metal surfaces, or grinding welds this can do it all.
#6 Rikon Professional 80-805
This 8″ bench grinder from Rikon is a good bench grinder, specifically for tasks like sharpening knives, or blades. It is designed to keep heat build-up down. This keeps the steel strong, and tempered. It also has rubber feet, made to reduce vibrations. Which makes using the Rikon 80-805 a pleasantly smooth experience.
The wheels on this grinder come in 60 grit and 120 grit, so it's ideal for grinding both slowly to remove less material, or much more quickly using the more coarse wheel. The wheels are made of white aluminum oxide unlike most other bench grinders which have black grinding wheels.
The base of the Rikon 80-805 is cast iron, and durable as a tank. As far as safety features go, this grinder is well equipped. It has an adjustable eyeshield to keep your eyes safe from sparks and debris.
Bench Grinder Buyer's Guide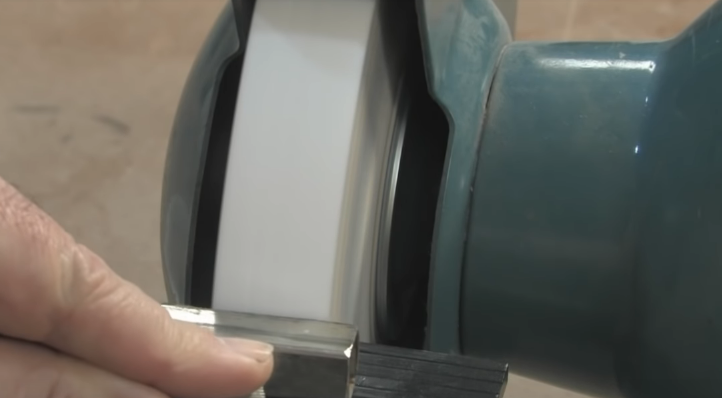 Power & Speed
When considering which product to go for, think about whether your use of the machine will be on light tasks or heavy tasks requiring a bigger more powerful/faster motor. Bench grinders typically have an RPM range from 2000 RPM to 4000 and up. It varies from model to model, but the best advice is to choose one with adjustable speed settings so whatever you're doing you can simply change the speed to suit your needs.
 Grinding Wheel type
The type of grinding wheel that comes installed on the machine is important (however it can be changed out later). The different wheels are for different jobs and materials. Some materials will call for a more coarse wheel and some others will need it to be less coarse for a finer result. Some models even come with medium and coarse wheels so you can swap them yourself depending on what the task at hand calls for.
Sturdy & Reliable
A good machine should have reviews from consumers that reflect its quality and reliability. It's important that it has a solid build quality so it can stand up to being used often without breaking down. It's also a good idea to look for one that features a cast iron base as this prevents wobbling while grinding.
Built-in light
Even if your workspace is well-lit, it's a bonus if you can find a machine that comes with an LED light built in. This helps to illuminate the area you're working in specifically, helping with more precise and effective work, it's also a safety feature.
Warranty
Ideally, you should pick a tool that is a good brand and you know you can rely on. But even then there is some chance of encountering problems, so it is a good idea to check out the warranty from the manufacturer.
The best idea would be to buy your machine from a manufacturer that offers a warranty of one year or more, this way you can have peace of mind that if something goes wrong you're covered.
Frequently Asked Questions About Bench Grinders
Hopefully after reading through the sections above you have a fair idea of the things that you need to take into account before you purchase a new bench grinder. If you're still feeling a bit unsure about which bench grinder you need, then read through this FAQ section which is designed to clear up any additional questions you have left.
Q: What size should I get, 8 inch or 6-inch?
For most people, especially those who just have DIY uses 6-inch models will be more than sufficient. For those that are professionals, the 8 inch bench grinder may be more suitable.
Q: Does the speed of the Bench Grinder matter?
Yes, it does. It's important because you will need to operate at different speeds depending on the type of materials you're grinding. That's why it's best to choose a variable speed bench grinder to make speed changes much easier.
Q: What is the best grit to use on my bench grinder?
It depends on what sort of material you're grinding. And it also depends on the kind of finish you want. For sharpening a knife for instance 60 grit is about right.
Q: Can I use a Bench Grinder to sharpen my drill bits?
Yes, in fact, it's common to do so. Using your drill press results in wear ad tear of the bits, and bench grinders are an effective way to get them to be sharp again.
Conclusion – which bench grinder is the best?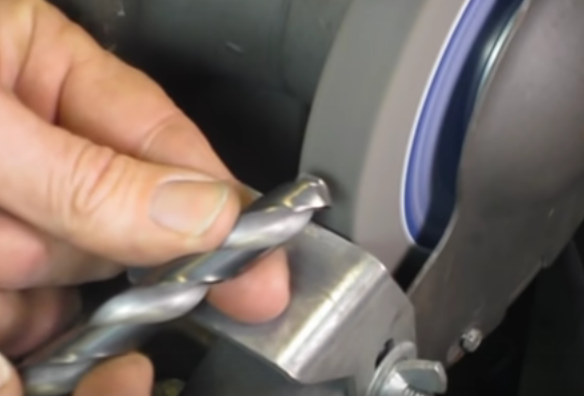 As a bench grinder is not a cheap tool, thorough research and thought is required to make sure you get good value for money. If you purchase a bench grinder from a well-known brand you're relatively safe, in that you will surely get a good bench grinder.
But to find the best bench grinder – well that depends on your own needs. So the main obstacle to deciding which tool is right for you is working out exactly what you will use it for, and what specifications you need to get your work done.
Hopefully, our bench grinder reviews have made this process more streamlined for you! Take your time buying your tool, it should be considered an investment. Remember to check out our other power tool reviews.