Best Angle Grinder Reviews & Buyer's Guide
Best Angle Grinder – Reviews & Buyer's Guide: An angle grinder is an essential tool for every handyman to have.
If you don't already own one but are looking to buy one then you're in the right place. We found this one to be the very best. Read carefully through our angle grinder reviews before you take the leap and buy yours, so you can be sure you get the best angle grinder for the money.
Buying an angle grinder is an investment in a tool that you won't regret. Angle grinders have so many different functions that can help you out with many different types of projects.
Here are our top picks for the best angle grinder options on the market.
This site uses ads and affiliate content, earning commission on qualifying sales. Disclosure.
Consider Before Buying An Angle grinder
It's extremely important when you're choosing an angle grinder to buy that you make sure it's a reliable and well-known brand. That way you can safely expect it to be able to take the punishment most people tend to put them through as any good angle grinder should.
Some of the more well-known brands that are highly trusted by consumers are Makita, Milwaukee, Kawasaki, and DeWalt. There are plenty more, but these are the big names and generally make the best angle grinders.
With these options, there are various different models to suit your price point and your needs. If you choose a more budget machine you might lose out on power.
Conversely, if you choose to spend more on the higher-priced models you may get more power and a more durable machine.
Our angle grinder reviews are here to help make the process simple for you. So ensure that you take a good look at our recommendations before you buy.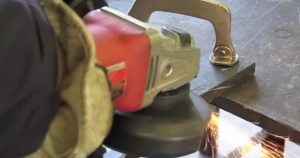 Size
Grinders vary in size, usually between 4.5″ to 7″ or more. This measurement refers to the actual disc size. While 4.5 inch models are generally sufficient for most DIY/handyperson-type jobs, some more demanding projects will require a bigger disc.
Power & Speed
These two factors often go hand in hand. Speed is measured in revolutions per minute (RPM) and usually sits somewhere between 3000 – 9000+ RPM. The faster the speed is, the more it can take on demanding work. Power is measured in HP (horsepower) and will often be up to 4HP or more on the best angle grinders.
Robust & Reliable
The product you choose, as mentioned before, should be from a reputable brand with no shortage of positive customer reviews to back it up. To some extent with these tools, you get what you pay for.
So if you go for a really budget model unfortunately you can't expect the world. However, the brands mentioned earlier should all serve you well. As with any product or tool no matter the quality or how much you spend, there remains a chance that it could be faulty so be sure to check the warranty before you buy.
Extra grinder attachments & Accessories
Consider what optional extras come with it, as depending on the tasks you're doing you may want specific disc add-ons. Sometimes attachments for polishing etc come in the box. otherwise, you can buy them separately as you need.
Best Angle Grinders on the market – Our Picks
Milwaukee 6130-33
The 6130-33 model is a great all-around option. It is durable, easy to use, and packed with all the features you need. It has a wheel size of 4.5 inches, with a 7 amp motor, and up to 11,000 RPM.
Milwaukee products are well known to be high quality, they have a fantastic reputation.
Makita GA7001L 7-inch Electric Angle Grinder
This tool from Makita is the real deal if you're looking for top-of-the-line in quality and performance. It is heavy-duty, as it has a large size of 7″, and an extremely powerful 15 AMP motor. The housing construction is rugged for extended durability. It has some nice user-friendly features like a removable handle that can be mounted on either side, as well as an AC/DC switch which allows you to use alternative power sources.
This grinder operates at 6000RPM with high torque, so there's no job too tough. This product is at the higher end of the price spectrum, and maybe overkill for some people. However, it could be perfect for you if you need something heavy duty.
Makita 9565CV

A great compromise between affordability, and still being very powerful and capable. This angle grinder from Makita features a "super joint system" (SJS) designed to prevent gear damage. This feature makes the 9565CV tool particularly durable.
Makita is a popular and trusted brand. It's safe to say that this is a good value and quality pick. It has a powerful 12 AMP motor as well as variable speed settings, so you can tackle any material.
It also has electronic speed control, which means that even under load the speed will remain consistent allowing for even grinding. Overall this is a great candidate. Consumers seem to agree that it's more than capable enough for devouring steel. It comes with a 1 year warranty.
DEWALT DWE402
The Dewalt DWE402 is another good option. Dewalt is a reputable brand when it comes to power tools, so this grinder would be a safe bet for sure. The size of the DWE is relatively small/medium at 4.5 inches. The motor is plenty powerful to get all of your work done – with 11 Amps, and a speed of 11,000 RPM providing a fantastic power to weight ratio.
The Dewalt dust ejection system is an especially nice feature of this product – it provides a high level of durability by keeping the grinder safe of debris that might otherwise cause damage.
To top it off, this angle grinder is priced very reasonably, so if you on a budget then this is a good choice.

Kawasaki 841428 4.5 inch, 7.5 Amp
Sometimes when you're on a tight budget you don't want to pay an arm and a leg. That's perfectly okay because you can still get a good quality tool at the lower end of the price range.
Granted it's not as powerful as the more expensive models but for many DIY enthusiasts and handypeople, this is all you need. Despite a low price of under $50 this tool is made to very high-quality standards and it is reasonably durable as Kawasaki is an extremely reputable brand.
This model in particular also features variable speed settings, which is useful so you can adjust to whichever speed suits the material you're working on.
Buying The Best Angel Grinder – Conclusion
If you opt for one of the angle grinders reviewed here you will have a high-quality tool for many years to come. Investing money in a good machine is well worth it in the long run, as you won't need to be buying replacements or spare parts. Any of the major brands listed above are reputable and will help your money go further.
However, there are cheaper options out there, but they're not recommended as they're often lacking in quality and safety features (which is not something you want in your power tools).
At the end of the day, you should use the reviews here to help guide you in evaluating which one is right for you, and your budget may be the determining factor once you've narrowed down the choices.
See Also: