Best Digital Caliper – Reviews and Buyer's Guide (2021)
In this article, we concentrate on finding the best digital caliper out there. Those of you that partake in hobbies which require precise and accurate measuring you will likely need a good digital caliper.
We determined that the Mitutoyo 500-196-30 is the best digital caliper on the market.
Let's face it, there are so many different brands of digital calipers on the market that choosing one is a confusing and tedious task. We have done the hard work for you by reviewing the top models so you don't have to waste time reading and researching for yourself.
We are confident that after checking out our top picks, and reading the buyer's guide you will be well enough equipped to wisely choose some good digital calipers.
This site uses ads and affiliate content, earning commission on qualifying sales. Disclosure.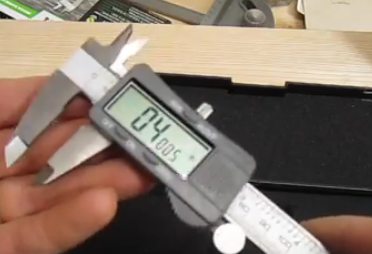 Best Digital Caliper – Our Top Picks
Calipers which you read the measurement yourself with no digital numbers are also common (and cheaper) however a good pair of digital calipers has some major advantages over these.
Below is a list which is carefully constructed to show the best digital calipers on the market. If you take a glance at the reviews below you should get a good idea of which one best suits your needs.
For those that still want more details, take a look at the thorough buyer's guide situated at the end of this article.
Mitutoyo 500-196-30

Digital Caliper

The Mitutoyo 500-196-30 is the best digital caliper overall on our list. That's because it comes with a ton of fantastic features. These digital calipers give you high levels of accuracy, with their ability to measure from 0 to 6 inches in 0.0005 increments.

They're also perfectly able to measure in both inches, and millimeters. As far as the display is concerned, it is bright and large, as well as very easy to read.

Good calipers should be designed with durability in mind, this model of calipers is no exception as they're made from stainless steel. Stainless steel is solid, but not only that, it's also resistant to rust and corrosion.

These calipers are designed in such a way that they can easily measure both the inside and the outside of an object, as well as its depth. These calipers also come with a silver oxide SR44 battery and protective case.

The only real complain regarding this tool is that it is a bit delicate. Also the case that it comes with is slightly too large for the tool, and lacks sufficient padding. Overall this is a fantastic choice if you're looking for a high end digital caliper that ticks all the boxes.
EAGems IP54 Stainless Steel Digital Caliper
The EAGems IP54 digital caliper comes in at number 2 on our list. It makes position number 2 for good, reason, it has a lot of features and benefits. But compared to the Mitutoyo model above it does have a few more cons.
Like the Mitutoyo calipers, these calipers also have a digital display. The IP54 can also measure from 0 to 6 inches in 0.0005 increments for high precision and accuracy. It can also use both mm (millimeters) and inches, furthermore it is able to be set to measure in fractions.
To keep the battery life lasting for longer there's an on off switch which you can use. One drawback which some consumers have noted though is that it does tend to turn itself on. If it turns itself on without you knowing it can cause the battery to drain.
Some consumers have also complained that the screw holding the battery case closed is too short resulting in it opening and the battery falling out.
This digital caliper also features a position lock, a very handy feature. Unfortunately some consumers lament that the lock does not hold well, regardless how much you tighten it.
Overall the IP54 is a good digital caliper. And offers some great features, with only minor drawbacks which are common for all hand tools to have some of.
VINCA DCLA-0605 Digital Vernier Caliper

s

The VINCA DCLA-9695 digital caliper comes in at third on our list overall, but it is the best value for money option. As it's not a top-of-the-line tool, it's quite a bit cheaper than the options above. Its performance and accuracy is good enough for most circumstances, and there are certainly worse options at a higher price.

This digital caliper is constructed from stainless steel, so it's very durable. It can measure from 0 to 6 inches, and displays the measurements on a digital LCD readout. Which it is to 0.001 inches accuracy.

Itcan measure in inches, mm, and infractions – you can also easily transfer the measurements into your computer with the data transfer port it has.

As with any good review, it would not be complete without listing some of the things that makes a product less desirable. This tool does indeed have some minor issues. For a start the computer is going whether the device is on or off which uses up the battery excessively.

Some consumers have also noted that if you bump the door holding the battery in it easily pops open, resulting in the battery falling out. This can be frustrating but can easily be fixed with some tape.

Another downside is that these digital calipers don't slide all that smoothly, also the jaws wobble a bit. If you can overlook these faults this is a great option however. It has some great features, at an even greater price.
Best Digital Caliper Buyer's Guide
As with all tools that are made to measure various different values, you cannot always rely on them being calibrated correctly. They can't always be as reliable and precise as you might hope.
They may even convert between different types of measurements incorrectly. Having to remedy these issues your self is time consuming and difficult. So it is best to make sure that you buy a good pair of digital calipers to start with.
If you're buying a digital caliper for work, or for your own at home use, it's a good idea to know which features you need to focus on. To go and purchase the first digital caliper you lay your eyes on would be a mistake as they are not all made to an equal standard.
Making a bad buying decision will result in you having a poor quality product, even one that is inaccurate. To address these issues and make sure that you only buy a good digital caliper we will go over some of the key things you need to consider in this buyer's guide.
Durability
With any tool regardless of its quality, things like water and rust over time lead to damage and they take their toll. In this instance it could lead to your digital calipers becoming inaccurate and difficult to use for jobs. That's why it's a good idea to purchase a digital caliper which is resistant to these common issues and is durable.
Durability is especially relevant for those that use their digital caliper for tasks that are demanding. Demanding tasks like repairing cars etc are far more likely to result in damaging your tools. It's certainly better to break your tools than part of your hand, but that said, ideally you would break neither.
Then you need to consider the issue of having to replace it. Cheaper calipers might seem appealing at first glance, but they break more often and may in the long run end up costing you more money. A more expensive model will cost less overall and last you a longer time.
Calibration
A good starting point to finding out about calibration is to check out the manufacturers website where they will often talk about the calibration process.
The best situation is to buy a digital caliper that is already calibrated, although in any case it may need re-calibrated in the future. If you're new to using digital calipers it's much easier to buy an already calibrated pair than to worry about calibration yourself.
Incorrect calibration will make your measurements inaccurate, which can lead to major issues down the line. This is particularly important in jobs that deal with vital components of for example cars. This can even become an issue regarding safety in some circumstances.
So it's obviously best to avoid wrong calibration altogether by making sure that your calipers are correct.
Knowing the level of accuracy to which a company claims to calibrate their calipers is  a useful thing. It provides you peace of mind to work knowing your measurements are accurate. And, if for some reason they're not you may have some legal grounds. This means that if something does wrong in the workplace the fault wouldn't be yours.
Type of Measurements
The ability to measure the distance from one point to another is essential, however there's not just one way to do this. A good digital caliper will have the ability to measure both the inside and outside of an area, there are also those which have other measurement features like step measurement.
There are also special designs which are made to use a depth measuring stick to gauge the depth of a hole.
With all of these different types of measurement, you should keep in mind that they're not all needed. Particularly if you plan on using your digital caliper for a very specific use case.
But for people who use them for a variety of tasks having the ability to measure in various different ways can be a huge help.
Conclusion
In conclusion, we consider the Mitutoyo 500-196-30 to be the best digital caliper. The downside of that digital caliper however is that it is not cheap. But it's worth it to pay for quality tools.
So we have also included some more affordable options on this list, which offer a great amount of value for less money.
Overall, if you pick any of the options on this list you will do well as far as quality goes.
Keep reading